Business Management Software
Advanced Business Manager (ABM)

ABM has been designed and developed by Accountants to create the next generation of accounting software for the next generation of business. Adding to the past principles of accounting software and discovering what was missing in today's accounting packages, ABM presents a business solution that works for you as a business management software, giving you the freedom to work on your business.

ABM is more than just an accounting package and a business management software, it's a complete business solution. ABM is comprised of core system modules as well as a host of optional module extensions designed to suit diverse business needs.

If you cant find the right solution, please feel free to contact us to see if we can customise an ABM package for your specific business.


All business activities are run through ABM's core accounting system, the foundation for your business-wide IT solution. Adaptable for small to large businesses and staff numbers, ABM is truly a robust accounting system with a focus on fluent user-friendly workflow to simplify business management. Inventory and Job Costing versions of the accounting system are available for product and service based businesses.
Extend your accounting system's functionality with ABM's Optional Modules. Attach them directly to ABM's accounting system to provide single-entry ease with full system integration of specific business software and functions. Link up as many optional modules as you require such as Manufacturing, Timesheeting, Service Management and much more.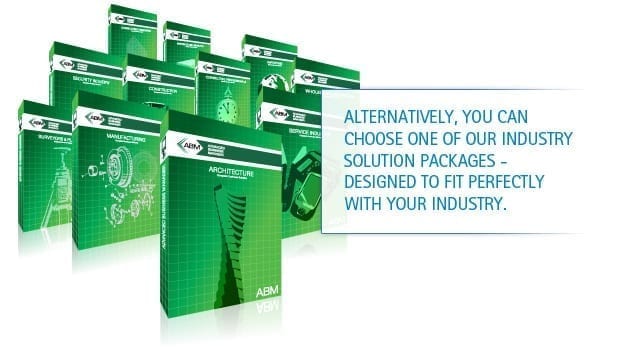 ABM's Industry Solutions are tailored packages for specific industries we feel would benefit from the combination of ABM's core accounting system and selected optional modules. Each are suggested packages and can be adjusted by adding or removing optional modules as needed.

Please note -
This website content is provided to give an idea of the capabilities and functionality of ABM. Due to the depth of features available in ABM, we highly recommend contacting us to speak to one of our solution providers to find out more and discuss your requirements. Our solution providers can quickly and effectively answer your technical questions and discuss how ABM can fit your business needs.