Opmetrix App
Field Sales Automation
Opmetrix provides mobile sales force automation software for high-performing organisations.

With the Opmetrix App, sales teams sell more and gain efficiencies in every call they make.

Opmetrix is more than just an App. We back our application with outstanding support and a constant focus on innovation.

All of this means our customers can focus on achieving the perfect store call.
---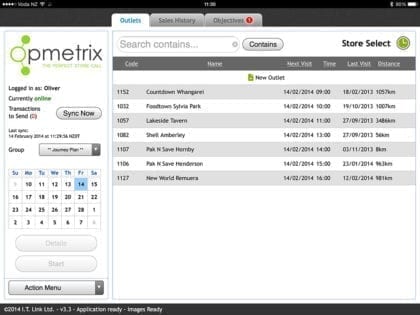 Define short and long term goals for field users and the stores they visit. from increasing product on shelf to selling in promotions, progress towards goals and their outcomes are easily measured.
Set Store Objectives and Goals
Achieve best practice with a targeted task list of activities to complete per store. tasks include Merchandising, Surveys, Promotions and call notes.
Supervisor or field user access to maintain and update call schedules. Management reporting includes adherence to call schedules, length of time spent in store and call coverage audits..
Maintain multiple contacts per store for each department or manager. Contact information is updated for all field users who access the store and can be exported to third party promotional mailing systems.
Call notes with topic and listed activities can be made in and out of store. Attach photos and email call notes to Managers, Customer services or credit departments.
Add new Prospects and Outlets in the field and build call history and survey information to turn prospects into customers.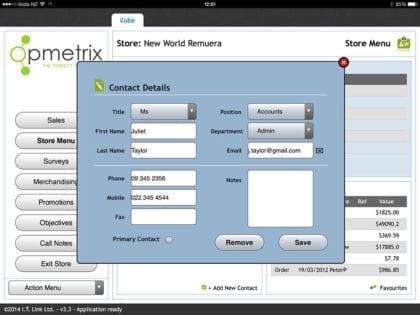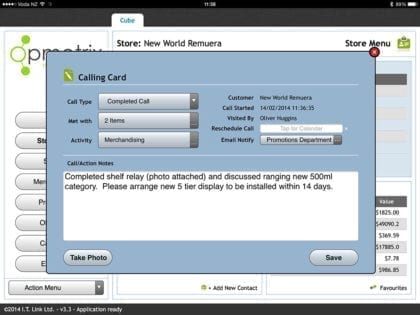 Action and resolve in-store issues quickly. Add a call note with a photograph and email to other field staff or Managers for immediate action.
Email Order/Credit Confirmations
Send professional email confirmations of Orders, Credit Requests or quotes to Outlets, to your wholesalers or your principals.
Build teams with group goals and incentives to maximise store productivity.
Order, Invoice, Credit, Quote
A comprehensive sales entry system to match the features of your ERP. Flexible transaction types with contract pricing, quantity breaks, promotion sales and sales history. Signature capture, printing and email options with settings to suit your business process.
Sell directly from the image catalogue and change between 4 zoom levels.
Supports multiple stock on hand by warehouse. Sell by Vendor/Principal or include wholesaler account and supplier details during transaction entry.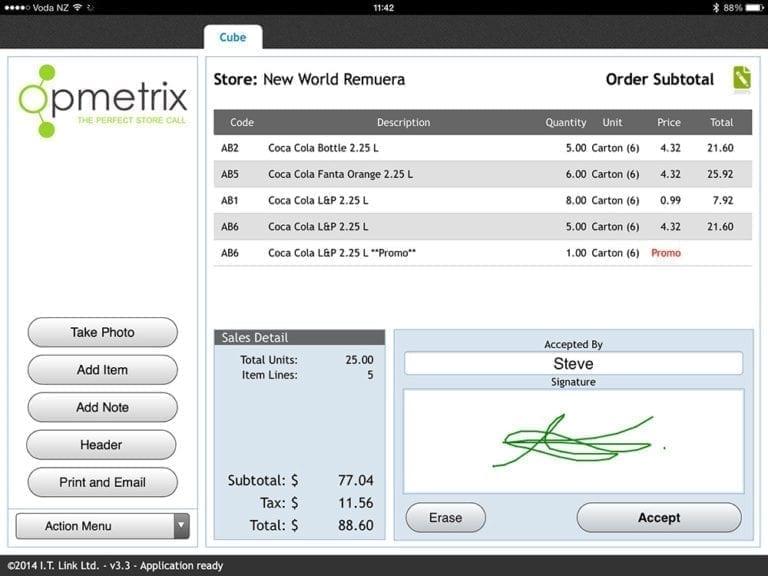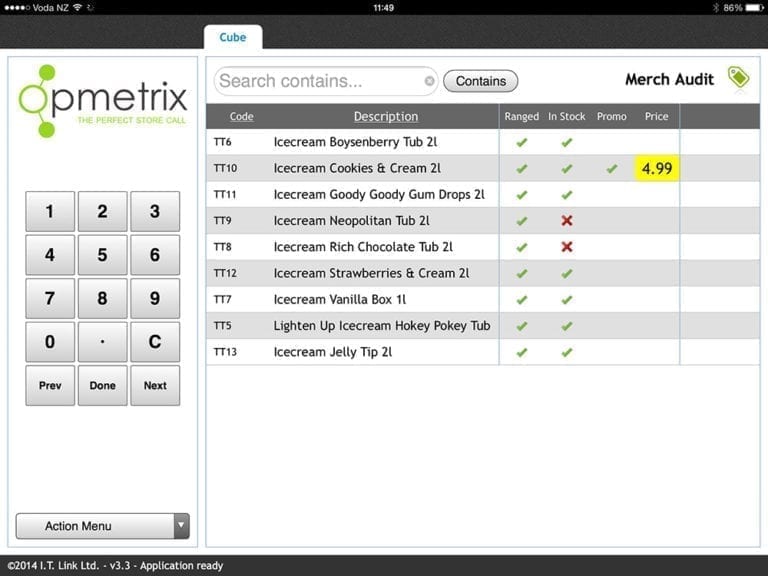 Audit mandatory ranged and optionally ranged items. Check Out of stocks, notes on item lines and attach photos to each audit. Conveniently load last audit details for quick updates.
Record Position on Shelf and facings by brand category or SKU for your range and competitor products.
Update RRP pricing and record your SKU and competitor SKU's that have price ticket reductions.
Easily audit head office arranged promotions to ensure store compliance. Attach Photo to promotion compliance and review photo gallery of displays.
Sell in new product, monthly promotions, table talkers or feature promos and ensure they are offered in-store. Record result and measure indent quantities and/or promo stock and promo items.
Accurately record the Trade spend agreed for Promotions and track and report the cost of promo business.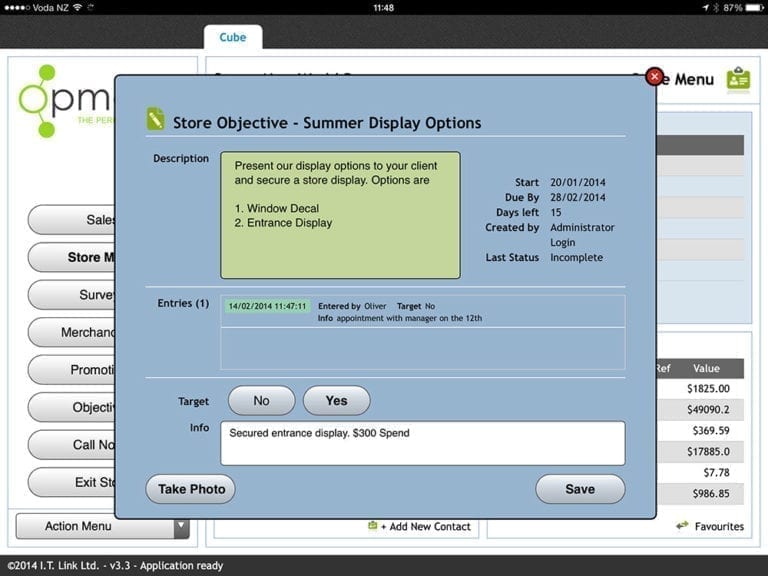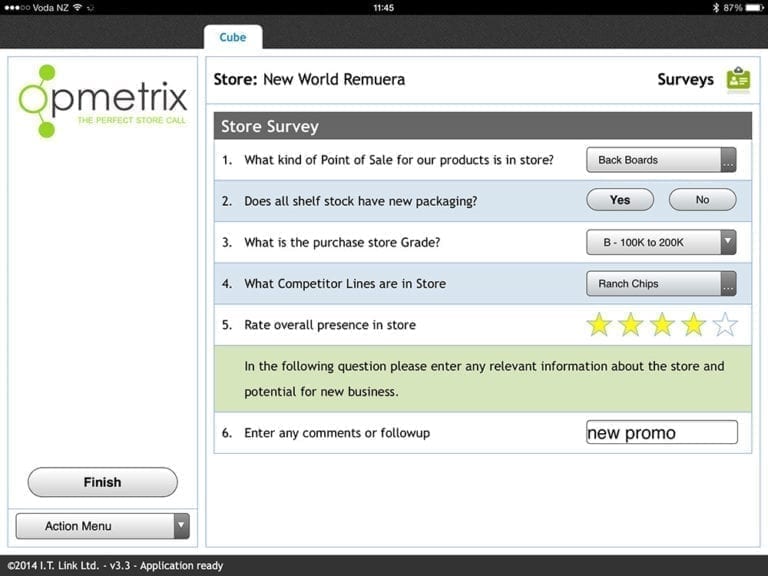 Choose from drop down lists, Yes/No buttons, Star Rating questions and Input Answer boxes to create rich and useful results to Surveys.
Design a new survey in minutes, and select the customer categories or banners you require to accurately target outlets and get fast results from the field.
Link surveys to sales transactions to record additional information like serial numbers, credit reasons or safety checks.
For business decision makers, Opmetrix CMS provides a rich new source of online information. Opmetrix enables focus on key selling opportunities, ensuring efficiency throughout the whole supply chain process.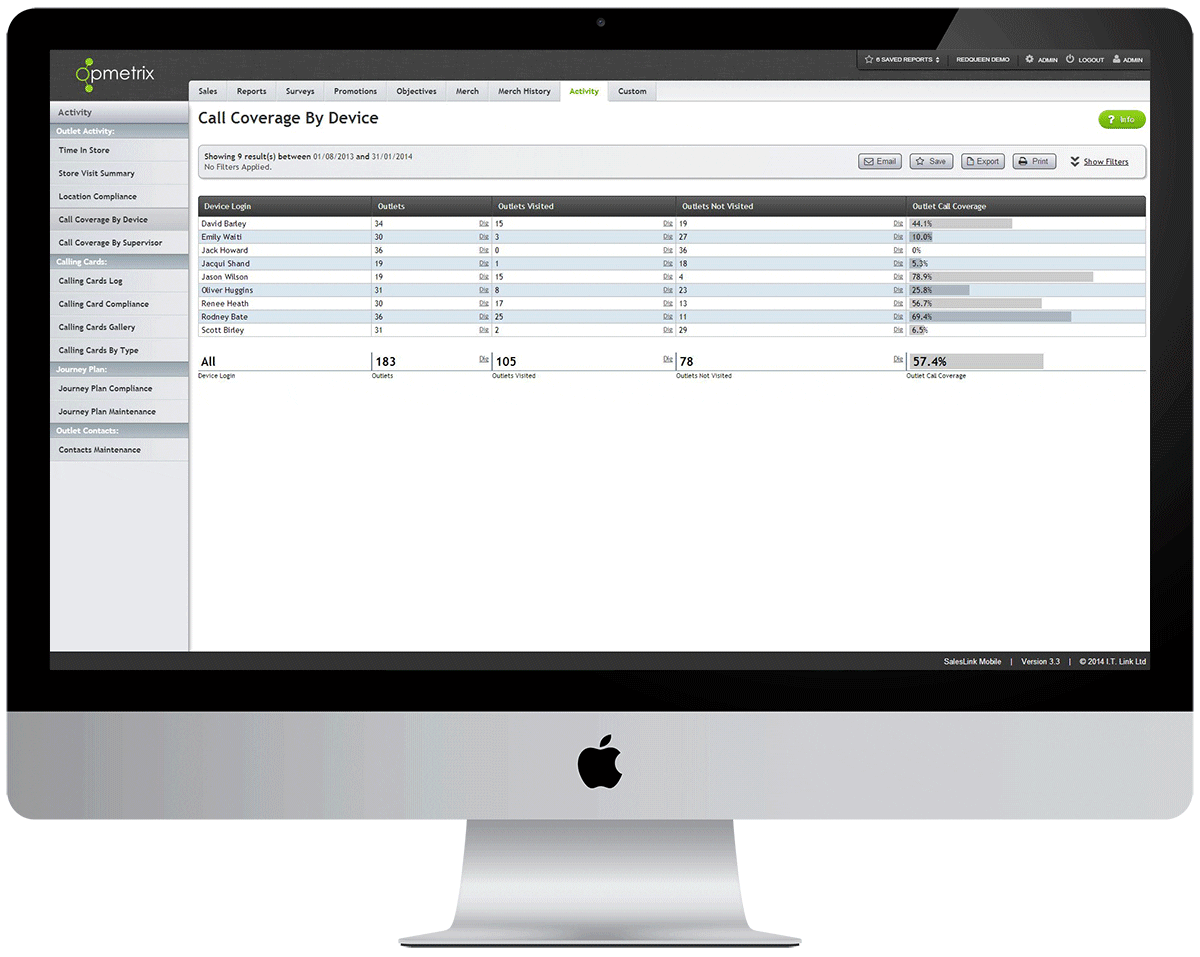 Automated email reports deliver up to date information to key personnel, allowing fast response to competitive conditions and ensuring the field team are at their most productive.
Key Features:
On-premise or cloud based server
Custom / saved reports for quick review
Automated email delivery of reports via PDF
140+ built in reports
Administration console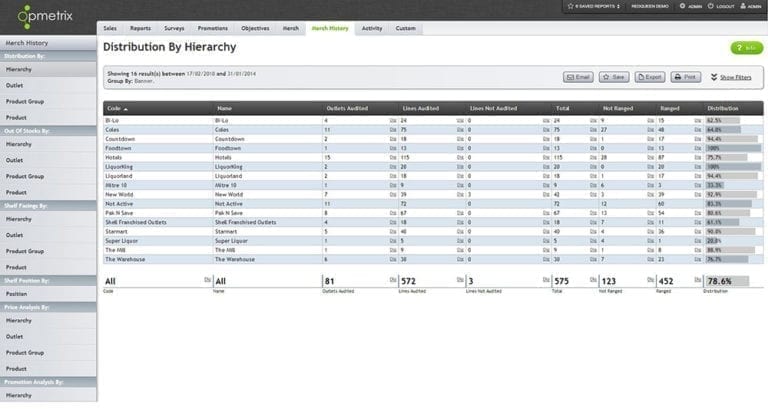 Opmetrix CMS is the administration gateway to the field team. Control users, passwords, access and accountability through this easy to use interface.

Modules including Surveys, Promotions, Call Scheduling and image catalogue are directly maintained with intuitive interfaces allowing easy upload to the field.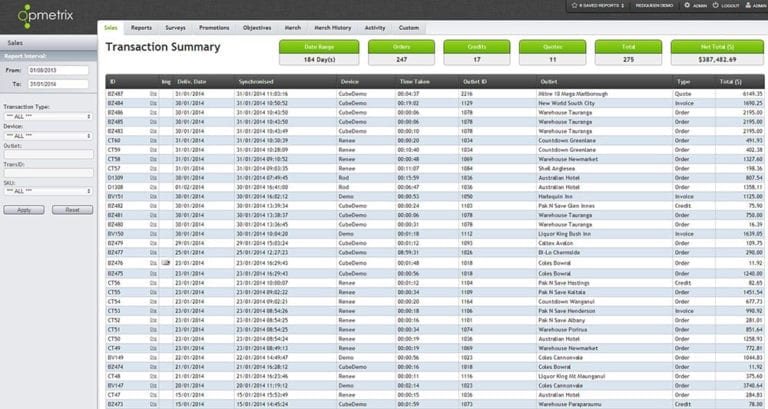 Delivering bottom-line benefits
Opmetrix CMS gives the insight to implement bottom-line benefits.
Increase Revenue though growth in product ranging and share of the shelf.
Increase Revenue though growth in product ranging and share of the shelf.
Automate manual tasks such as Credit Requests, indent orders and surveys.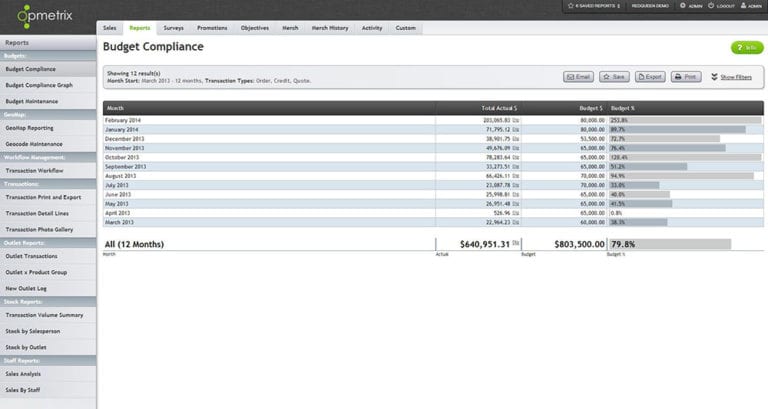 Instant On-line Reporting
Opmetrix CMS is a rich repository of information such as time spent servicing different types of customers or individual accounts.

Over 80 reports covering Merchandising, Survey, Promotions and Sales entry ensure total viability of all field data.

Photo capture from the field displays in Galleries for easy viewing and reporting data can be exported to Excel or other BI platforms for further analysis.