Secure, Flexible and Cost Effective
ABM Cloud is a secure hosted desktop solution giving you the flexibility to easily increase IT capacity or add capabilities without investing in new infrastructure. Data is securely stored in a state of the art data centre and delivered to your desktop via a high speed internet connection, giving you access to your data from anywhere in the world, 24 hours a day.
ABM Cloud Features:
Reduces IT costs
Avoid capital expenditure on infrastructure, service upgrades, and ongoing maintenance The ABM Cloud solution gives you the flexibility to only pay for what you use.
Guaranteed data security
Data is securely stored in a state of the art data centre with 24-hour security monitoring. Leading firewall and anti-spam protection and database level user authentication also ensures your data will always be safe.
Predictability of fixed costs
Our fixed cost delivery model means you will know exactly how much you'll be paying each month.
24/7 availability
Be assured, ABM Cloud will be available 24/7 with a 99.99% uptime SLA guarantee. Practices will be notified of any scheduled maintenance.
In-house delivery system
Our custom built in-house delivery system allows ABM to maintain control of the performance, reliability and support of the ABM Cloud solution to ensure a superior level of service.
Windows and Mac support
ABM Cloud clients products can be run on either Windows, Mac or Linux operating systems.
Daily back-ups
Daily data back-ups ensure your data will never be compromised and always on hand should you need to access it.
Expert support
A dedicated ABM Cloud support team and comprehensive online help resources are available to help you quickly deal with any queries.
Disaster Recovery
Should disaster strike, a simple data recovery process will enable your practice to get back up and running quickly.
Our delivery model gives you the flexibility to customise your ABM Cloud package to best suit your needs.Contact us to talk about how ABM Cloud can help your business get more out of your IT system, reduce costs, and increase productivity.
Client Server Model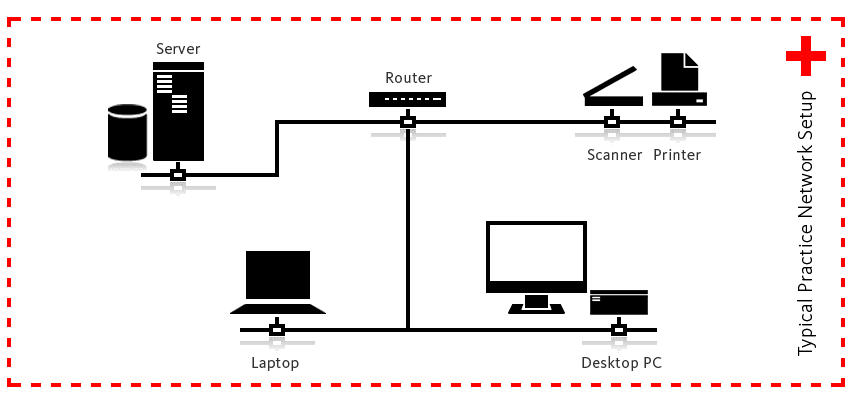 In a typical Client Server model, most of the processing is done on the PC (client), treating the server as an information repository. Individual PCs send requests for information to a central server, which returns the results to the client. Each PC is required to have their own version of each wp-contentlication it runs, and they must be kept up to date to ensure optimal performance.
ABM Cloud Solution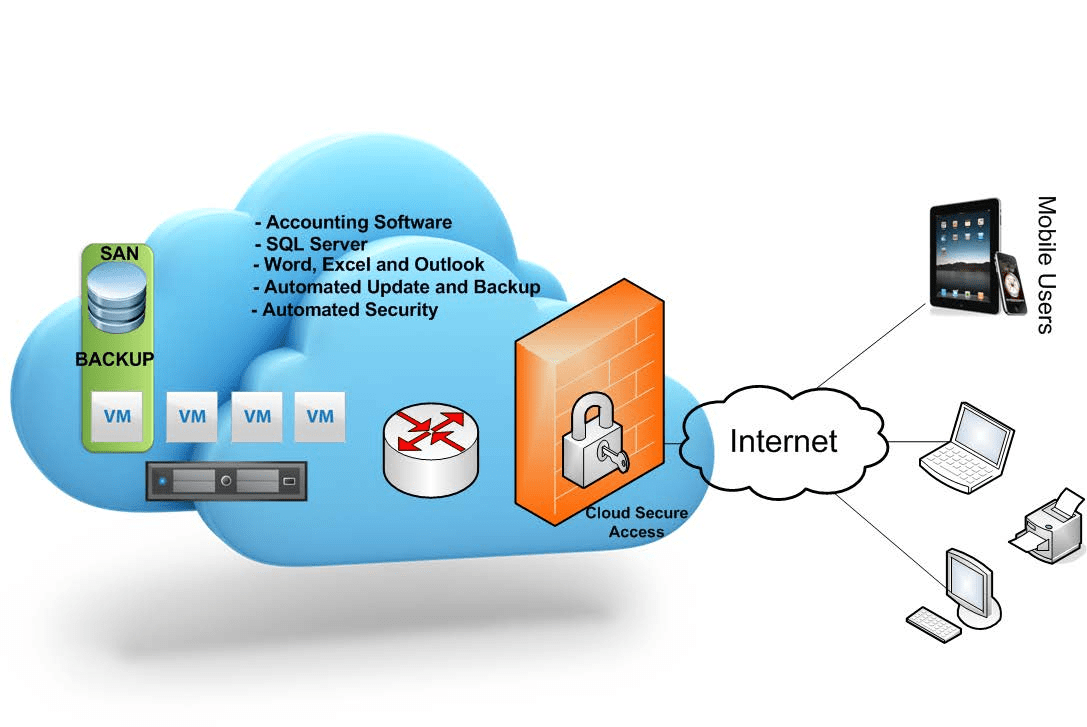 In a Cloud solution, wp-contentlications and data are stored, run from, and managed by a central Cloud server. Users do not download and install wp-contentlications on their own device or computer. Instead, data and wp-contentlications are delivered to your device via a secure high speed internet connection, utilising the processing power and storage space of the Cloud server. A Cloud model removes the need for version upgrades or license management on individual computing devices.
Standard Service Includes:
Microsoft Server Operating System

Microsoft Office Standard 2014 - Word, Excel, PowerPoint and Outlook

Firewall, Web content filtering and Antivirus protection - Full system protection

Daily Off site Back-ups - Data back-ups kept for seven days

24/7 availability Monitored Systems - 99.99% uptime SLA guarantee

Fiber, HSNS or ADSL Circuit to Data Centre

Dedicated server for your Business - Improved data security

Enterprise Storage and Server System – ABM Cloud is built on the latest technology
Extra capabilities and storage can be easily added to your Cloud solution at any time.
You may prefer to use your own Office 365 licences which can be installed on ABM Cloud.