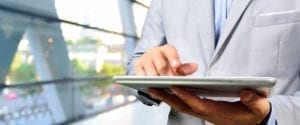 Advanced Business Manager (ABM) is embracing the shift towards mobile applications in order to deliver "anytime, anywhere" access to your business information.
ABM mobile application has shown strong improvements in operating efficiencies and accuracy, due to the ability for mobile users to enter data on the spot and have access to ABM wherever they are.
ABM have continued to develop and improve these applications, more recently with a brand new look and feel. This great new look and feel from ABM makes managing your business information so much easier with a brand new user interface. It's time to improve efficiency and accuracy with ABM's Mobile Applications.
Giving you access to ABM on the go - no matter where you are.
Benefits
Access ABM anytime, anywhere
Instant data entry
Access to critical data when needed
Improved information gathering
Access to real-time data
Eliminate double entry
Applications
Job Costing and Timesheeting
Customer Relationship Management (CRM)
Service Management
Contact us today to find out more about ABM's Mobile Applications and how they can help your business.